Ready to learn more about the Tudors?
Find out why the Tudor Society is the world's leading Tudor online platform
CLICK TO SEE HOW IT WORKS
FREE 14 Day Trial 14 days free cancel anytime unrestricted access
SIGN UP FREE
Over 256 hours of Tudor focused videos and including 63 magazine back issues
Whether you're an experienced historian, a life-long history fan or even if you're just starting out, you'll always find something new with your membership.
Monthly Expert Lectures
The Tudor Society is much more than the normal websites you might visit. We have a huge live component in our website. When you become a member you're going to get access to two live-chat events every month brought to you by the best names in Tudor history. We work hard to connect Tudor history fans to experts, all from the comfort of your own home. And what's amazing is that you can ask your questions in real-time and have them answered immediately.
Here are the last six expert talks we had...
If you want to be part of an amazingly supportive online Tudor community, we've got you covered.
When you become a member of the Tudor Society, no matter where you live or what you know, you'll be able to connect with fellow Tudor history fans across the globe.
Never before have Tudor enthusiasts and experts had such an incredible opportunity to discover Tudor history.
Your membership includes:
Digital Monthly Magazine
Enjoy a Tudor-focused magazine each and every month. Jam-packed with articles from historians and authors who are experts in Tudor history. What's more, members have access to the full library of monthly "Tudor Life" magazines dating back to 2014!
That is 63 back issues!
Exclusive Tudor Society E-Books
Gain access to our growing series of e-books which includes books on the Tudor kings and queens, Tudor feast days, and the Spanish Armada.
Weekly Videos
Each week, we post exclusive talks from our founder, historian and author Claire Ridgway. In her "Claire Chats" videos, Claire talks about a wide range of Tudor topics and shares resources to find out more. Members have access to all our "Claire Chats" talks dating back to 2014.
There are 256 hours of videos for you to enjoy
Monthly Expert Online Talks
Wherever you are in the world, you can enjoy exclusive monthly talks from Tudor historians and authors. No more having to travel to talks or missing out because you live overseas. Our historian talks are all archived and searchable, so you can enjoy past talks whenever you want.
We have currently got 78 expert talks for you!
Monthly Expert & Informal Chats
We host two live chats per month: one an informal chat on a Tudor topic, and the other a Q&A session with our expert speaker. Engage with other Tudor history lovers and have chance to talk to historians and authors through these chat sessions.
Virtual Historical Tours
Every month, our roving reporter, historian Philippa Lacey Brewell brings us a virtual video tour and talk from one of the UK's stunning Tudor attractions. Live vicariously through Philippa!
Visit 11 Tudor sites - one new each month.
Weekly Fun Quiz
Every Sunday, we have a bit of Tudor fun with our online quiz, wordsearch or crossword puzzle. Perfect for all levels of Tudor knowledge and a great way to test yourself! All quizzes are archived.
Test your knowledge with our 272 previous quizzes
Private Forum
Get to know other Tudor history lovers from around the world, arrange meet-ups, discuss books, post questions, answer other members' questions, and enjoy talking Tudor in our safe, secure members-only forum.
Unique Tudor Articles
From biographies of Tudor personalities and information on Tudor events, to lists of primary sources and recommended reading, from Tudor news to family trees, we have it covered in our archive of articles.
What is the Tudor Society?
With members from all around the globe, including the USA, Canada, Europe, UK and Australia, the Tudor Society was founded in 2014 and has quickly become the go-to place for Tudor enthusiasts because of the high quality of the unique articles, the Tudor focused magazines, and the experts it attracts.
Our members have access to everything on the website, currently including 63 magazine back issues, over 256 hours hours of video and all of our 78 monthly expert lectures and 272 weekly quizzes. We add one expert lecture a month, one full magazine a month, and have two live chats a month too. You can even download our magazines as PDF files to enjoy offline wherever you are.
Connect to an ever growing list of articles, videos and quizzes on your computer or mobile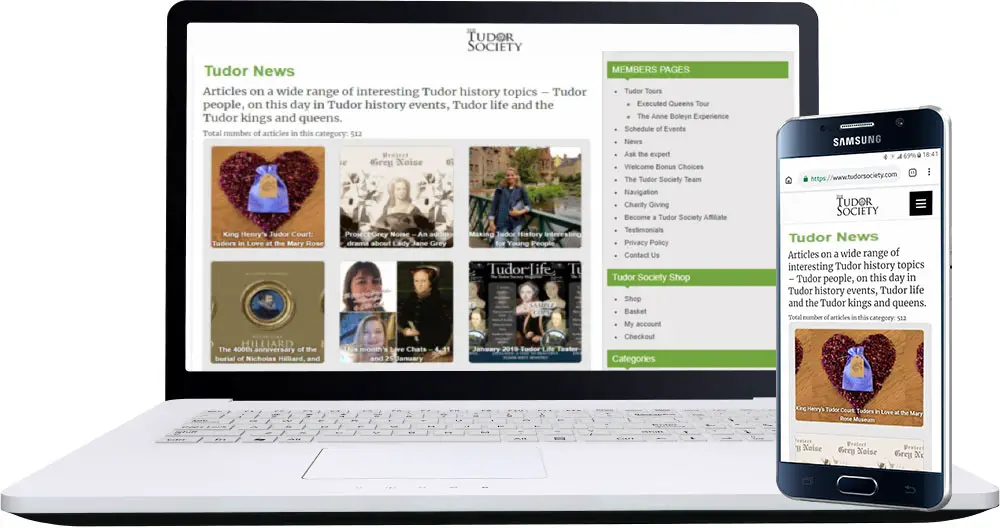 Your journey to the past starts here.